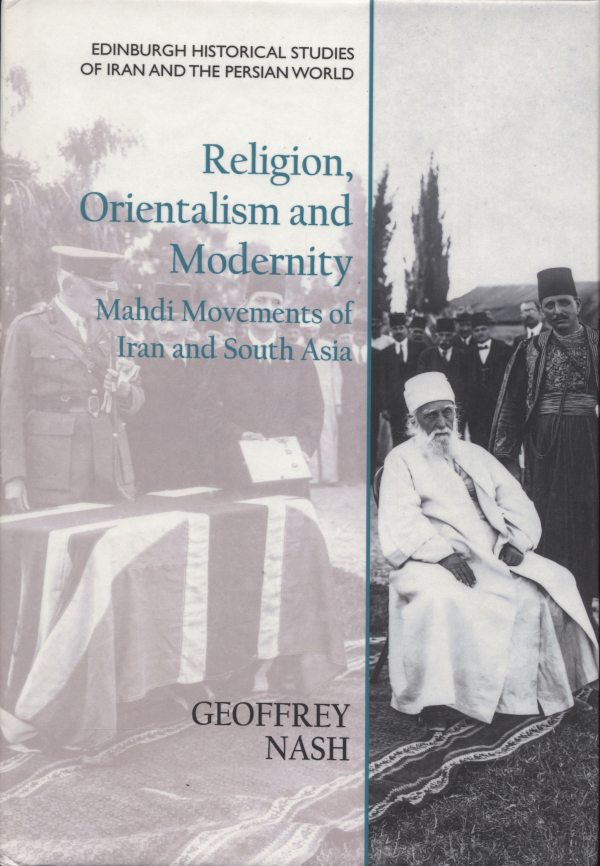 Religion, Orientalism and Modernity: Mahdi Movements of Iran and South Asia
By: Geoffrey NashContributor(s): Stephanie Cronin [Series Editor]Material type:

TextSeries: Edinburgh Historical Studies of Iran and the Persian WorldPublication details: EdinburghEdinburgh University Press2022Edition: 1st edDescription: vii, 334 pages 24 cmISBN: 9781474451680Subject(s): Baha'i Faith – Iran – Nineteenth Century | Ahmadiyya Iran | Millennialism — Baha'i Faith | Iran — Baha'i FaithTags from this library: No tags from this library for this title.
Analyses modernity and Orientalist discourses in Iranian millenarian movements
Employs historical and discourse analysis to probe the conflict between orthodox and heterodox religious movements in 19th- and 20th-century Iran
Links the conflict between orthodoxy and heterodoxy to the impact of modernity on Iran's society and religion and to colonisation on India's Muslims
Broadens the scope of this conflict to include Palestine, Central Asia and Turkey
Presents a postcolonial analysis of the new movements and their broader relationship to the Islamic world during the age of imperialism

Religion, Orientalism and Modernity explores the emergence of the revolutionary Babis and reformist Baha'is and their conflict with mainstream Shi'a Muslims in Iran, and of the parallel Ahmadi movement in North India. It gives fresh insights into the writings that defined these innovatory movements, penned on the one hand by their proponents, and on the other by western interpreters.

Comparing these movements shows that, together, they define important aspects of Islamic modernity. A focus on two case studies (Babis and Baha'is in Iran, and Ahmadis in India) reveals similarities and differences in their responses to a perceived need for change and renewal of religious authority.